3D COMMISSION STATUS: ❌
SPECS
Custom made model (no base)
Humanoid rig only (no quads/ferals)
Gesture expressions (extra fee)
Furry only
You can make edits, but no redistribution
You get the .blend AND the .unitypackage
Includes blinking and eyetracking
NO NSFW or fetish
OPTIONAL
I can add DynamicBone components, but you will need to have the script yourself. I will not give it to you. buy it here.
I also usually use Poiyomi's Toon Shader (free download here).

PRICING
(ALL PRICING USD, PAYMENT VIA PAYPAL)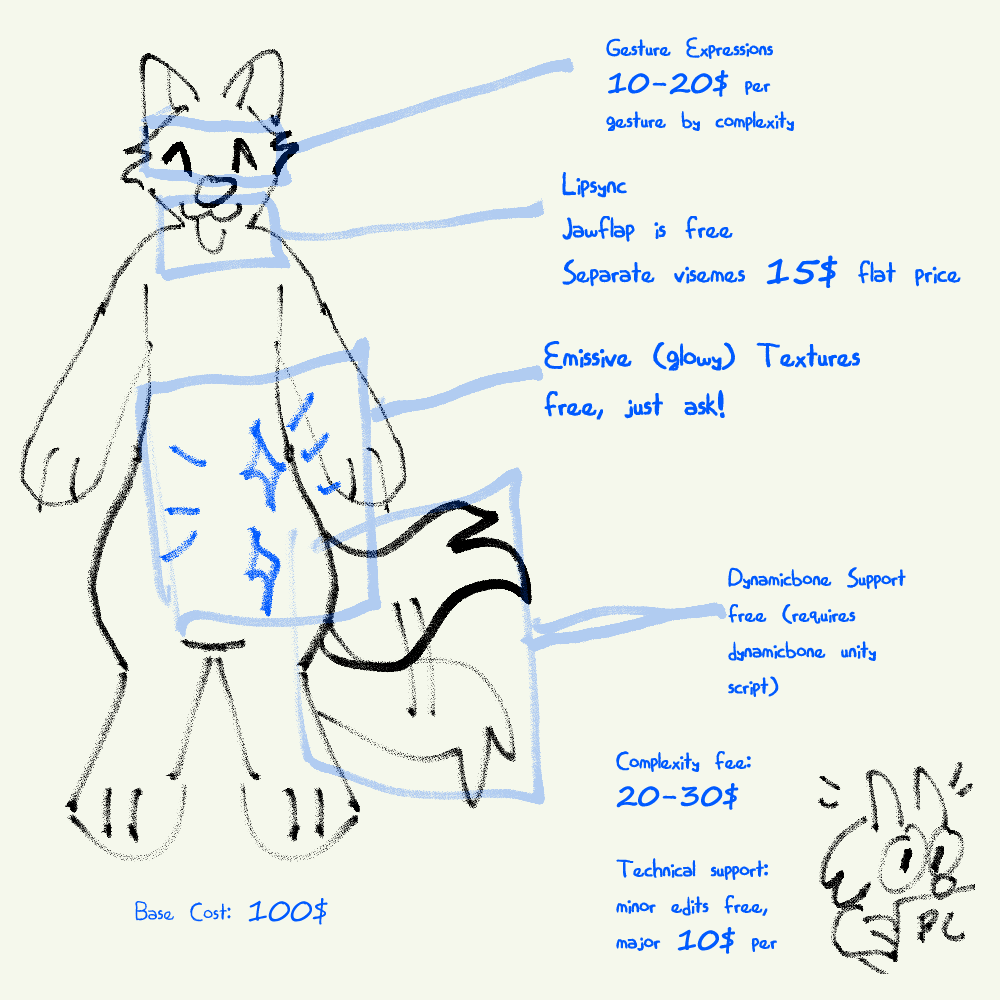 BASE PRICE - 100$.
This includes the base model and stock animations/gestures/etc.

COMPLEXITY FEE - some designs are really complex. estimate 20-30$, you can ask.

GESTURE ADDON - 10-20$ depending on complexity per gesture/expression.
Things like closed eyes, squinty eyes, smiling, etc...

DYNAMICBONE - no extra price, literally just ask.

EMISSIVE TEXTURES (glow in the dark) - free

TECHNICAL SUPPORT - minor edits free, major edits (especially near finish) are 10$ per. I can still help edit or modify small things after the commission is over but only if it's within a few months of purchase.

LIPSYNC - jawflap is free, regular visemes/mouth shapes are 15$ overall.
EXAMPLES
✨✨Video of my latest avatar, Kikeri
REGULAR MODEL EXAMPLES